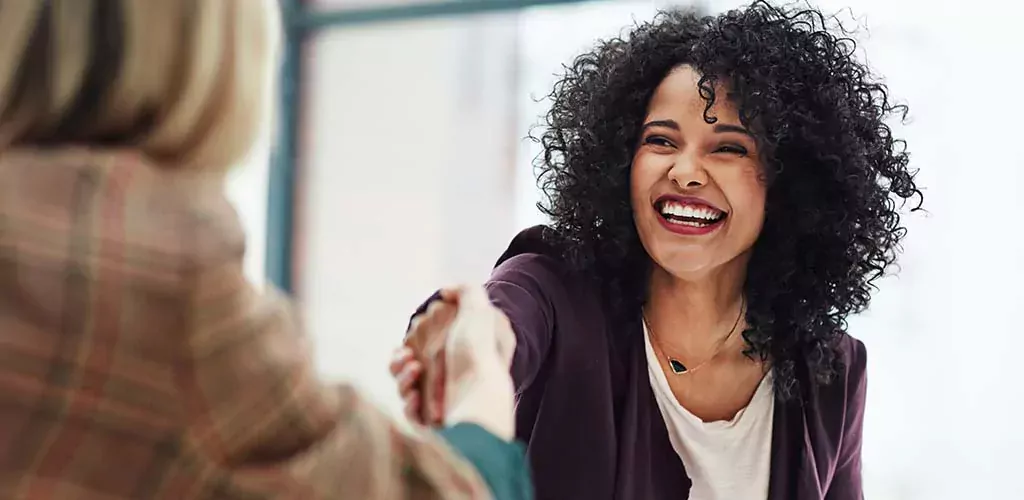 A real partner listens. Take your diverse recruiting to the next level. A life sciences leader discovers a more intentional, engaging way to recruit.
The challenge
A global leader in life sciences was looking for ways to refine its overall diverse recruiting activity. The company needed a novel approach to help reach its goal of 30% diverse talent in full-time roles across all locations.
The solution
First, KellyOCG® listened intently. Knowing the client's business, they tapped deep expertise in both talent and market trends to recommend a series of unique recruiting tools, tactics, and resources.
The result
The KellyOCG team completed a key executive search to illustrate the strength of their new approach. The client found new and different ways to be more intentional, strategic, and engaging to candidates.
Not sure what's next? Ask the talent and industry experts.
A global leader in life sciences wasn't sure how to best move forward with its overall diverse recruiting strategy. They asked KellyOCG to consult for a new approach that could improve results across the company's various locations. Their goal was to measure 30% in diverse talent for its full-time workforce.
Data is always limited for diversity because it's collected on a voluntary basis as workers self-identify. It's also hard to break down by dimensions such as gender or race. So KellyOCG compared local market demographics to see whether any issues were related to hiring practices, or rather dictated by the local supply of talent.
Insight for a new sourcing, recruiting, and selection process.
Sourced a diverse Senior Operational Leader to demonstrate a new approach.
Discovered more intentional and strategic ways to engage with all candidates in each key market.
Partnership leads to a more thoughtful, strategic process.
Initially, the team analyzed diverse talent slates across all the locations and roles that Kelly® supports with contingent talent. Findings would then be modified to apply to its other talent pools and spending. KellyOCG began by looking at its own current hiring data pulled directly from the client's MSP, which confirmed they were close or already exceeding the client's goal of 30% diverse talent at most locations. Next, they looked closely at how each local client was recruiting. They soon identified some new and unique ways to engage and approach overall recruiting based on the actual local market dynamics.
This rich insight led to recommendations for a new sourcing, recruiting, selection process that would better engage the client's Talent Acquisition, HR, and business stakeholders—customized by location. KellyOCG developed personas for talent. Alongside more traditional sources, recruiters focused on targeted groups for diverse talent, like Women in STEM or local ethnic minority organizations. Technology tools were also used to help mitigate any bias in sourcing and screening.
How the right approach delivers.
KellyOCG used a live executive search to show how their process works to find and engage candidates in a different way. Internal and external benchmarking found diverse talent gaps at the Director+ level. So, they recruited for a Senior Operational Leader, a role that's critical to growth strategy. Results of the test proved how the approach can work for all levels of talent:
63% of candidates sourced were of diverse gender or ethnic minority.
63% of the diverse candidates were submitted.
45% of the diverse candidates submitted moved to the hiring manager interview.
50% of diverse candidates interviewed by the hiring manager moved to on-site interviews.
A diverse candidate was ultimately selected for the role.
Rich insight for a more considerate way to recruit.
Consultation has been key to ongoing success of the partnership, allowing the client to be more intentional, strategic, and engaging to candidates in new and different ways. As a talent expert, KellyOCG thinks differently, and listened carefully to consider all aspects of diversity for individual markets. KellyOCG connected the dots to provide more robust information, by looking at the client's markets more holistically to engage all the people near every site.
1.
Deep expertise in local talent and market trends.
2.
Transformation of the client's recruiting process.
3.
Proven approach for engaging more diverse candidates.